About Last Night
Or "How I Became a Short-Lived Internet Hero to Fans of a Recently Defunct Disney Channel Cartoon."
I feel I owe those of you who follow me on Twitter a short explanation of the barrage of tweets unrelated to running last night. I'll be as brief as possible.
It begins with this July 20 article on io9, which introduced me to Gravity Falls:
Gravity Falls was a cartoon that ran on Disney XD from 2012 until February of 2016, where it ended its run after two seasons. It followed the adventures of twins Dipper and Mabel Pines, who went to spend the summer with their (great-uncle) in the Oregon town of Gravity Falls. In the tradition of shows like Twin Peaks, the twins encounter the weird and the unexplained, from ghosts, to shape-shifters, to formerly unknown Presidents of the United States that were frozen for centuries.

What made the show so special—besides its amazing voice acting, outrageous humor, and heartwarming character moments—was its reliance on code breaking. At the end of each episode, viewers were presented with a jumbled assortment of letters that they could crack. Some were hidden jokes, but others were bits of foreshadowing that were sometimes incredibly bleak and foreboding.
The show's creator, Alex Hirsch, put together a treasure hunt for fans. It began with this tweet:
Let the games begin #FLSKHUKXQW pic.twitter.com/shSu5PCDSR

— Alex Hirsch (@_AlexHirsch) July 20, 2016
I was immediately intrigued because back in the good old days I used to write a column on unknown ciphers for the American Cryptogram Association, and had a cover story published in Civil War Times Illustrated on codebreaking in the Civil War.
So for two weeks I've followed the hunt from Russia to Japan to Southern California, amid maps and geocaching and jigsaw puzzles, until at last we reached the final clue. And there the Internet and I were stumped, for although we knew the answer was "written in the trees" of the above picture, we hadn't a clue of what was enciphered or how. Fortunately, Hirsch took pity on us and gave a hint that was quickly deduced to indicate a Polybius cipher was in play.
I spent more time than I should have on the problem, finally reaching a conclusion, which a fan conveniently tweeted along with the overlaid treasure map to confirm my deductions.
It looks like it's Reedsport, OR! Good job @RunningIsFunny for the awesome deciphering! #CipherHunt pic.twitter.com/jcVwN5SLkW

— Maria Carolina (@sunnyotakuu) August 3, 2016
I started to get a little worried as entire families now drove to Reedsport at dusk, and traipsed along the dirt trail in the darkness. But at last, success!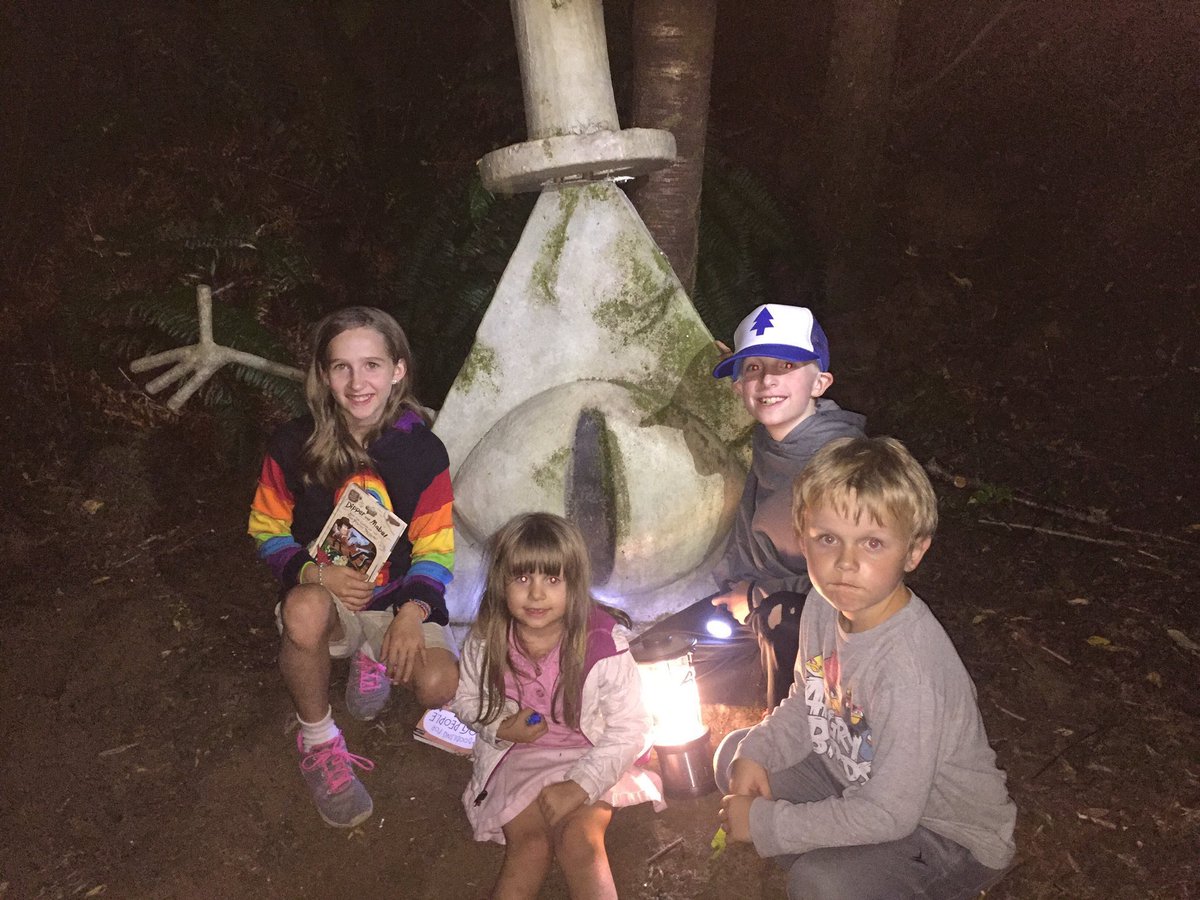 That's a statue of Bill Cipher, the main villain in Gravity Falls. There was a treasure chest, with a congratulatory note from Hirsch, along with some Gravity Falls souvenirs and tchotchkes. Fans are now seeking a permanent home for the statue.
So, for a few short hours I was a hero to kids, tweens and discerning fans of clever animation. Grunkle Mike will now return to the obscurity of a funny running blog.